Features of Aqueduct
Underground water through aqueduct :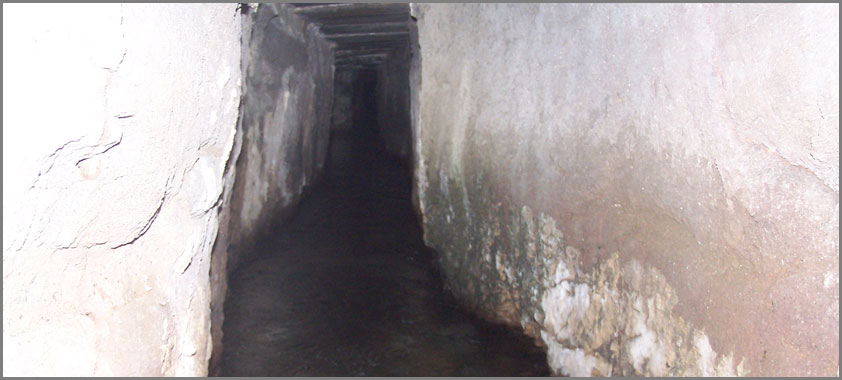 Malik Ambar was a master minded aqua engineer decided to bring underground water to supply the people of Aurangabad by uplifting water on the surface of the earth for drinking purpose. At a distance of 2.5 miles away from the town a well was dugged at the bottom of elevated hills. The subterrian water current gushed into the well. Underground tunnel was dugged out with providing gradual slope towards town. On both the sides of tunnel walls were raised in brick and lime missionary leaving thousand small cavities for subterrian spring water to fall inside the tunnel. The walls were covered in archway and many man holes were left open for repairs cleaning purposes. Tunnel constructed in brick & lime measuring 3ft with 8 ft. height. The bottom of this tunnel has been provided gradual slope towards the city. Thousands of subterrian water currents gushed water into the tunnel and move fast towards the city. There was a difference of height of 70 feet between source point to the end point.
The technology of this tunnel was very perfect in its construction. There were various arrangements provided in the tunnel taking into consideration the problems arised in those days. At some places earthen pipelines were also built and siphon system was also used and overflow system was also built.
The output of the water for the use of people :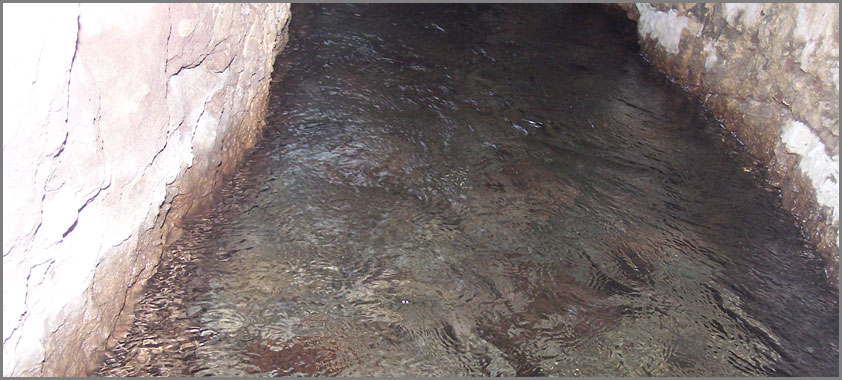 The huge water supply through this tunnel later on terminated to all corners of the city through earthen pipelines measuring 2 inches to 12 inches. At the end point of these earthen pipelines many small cisterns were constructed with fountains in the center to supply the water. The people were collecting water from these cisterns. Near about 600 cisterns were built in the city connected with these pipelines to supply drinking water.
The airtowers were specially constructed at many places over the earthen pipelines to control the flow of water.
The supply section of Nahar-e-Ambari the underground aqueduct tapped into hillsides measured 12,840 ft. length having average width of 3 ft. and height 7 ft. Brick walls raised at both sides of the aqueduct are completely covered in archways over subterrean water to protect from soil to come inside. Thousands of small cavities specially left in the brick walls to allow subterrian water. Solid rock bottom has been provided gradual slopes from its source situated at hillside at 2031 ft. height above the sea-level, to carry water to its destination i.e. Gaimukh (Stone Cow head) erected at the lower height at 1954 ft. S.L. Gravitation forces allows water to flow fast towards the town as there is level difference of 77 ft. in between source and end-points. There are one hundred vertical manholes constructed at every 200ft average length distance over this aqueduct, so as to reach into the bottom of the aqueduct from the surface of ground for cleaning and repains purposes.
Overflow System :
Considering the aquapressure developing inside aqueduct, particularly in rainy season, a highly skilled structure for "Overflow" of water is designed in the aqueduct to provide safety.
Gaimukh (Cow Mouth) :
Ambari aqueduct was mostly passed by the side of a small stream known as Kham river by which a quantum of water inpout is raised. Basin shape catchment area at hillside at source point is enough to keep constant supply of water to the town.
Gaimukh is a terminal point of aqueduct, from onward an earthen pipelines of supply section measuring 12" diameter embodied in 1 ½' x 1 ½' in lime mortar nutshell. Network of earthen pipelines ranging from 2", 6", 8" diameters connected to more than seven hundred cistern spread all over the town. People used to take water from cisterns and take it to their houses for drinking and other purposes.
Salient Features of Underground Aqueduct